First, the bad…
APPARENTLY I DON'T know a thing about cooking asparagus. I'm pretty good at cooking other things though, so when I decided to add asparagus as a unique side dish to my Christmas meal I do believe I suffered from too much false confidence going in.
My first mistake may have involved the purchase of frozen asparagus. Before clucking your tongue at me, I attest that the package looked good… all nice and fresh and what not. Flash frozen, no doubt, was my thinking. Plenty of other veggies do ok frozen. That was my rationale.
My second mistake had to do with thawing the asparagus in the microwave. I'm certain that a minute or two would have sufficed, but I did four. Thus, the cooking process was started prematurely.
A closely related mistake occurred when I opened the steamable bag too early, before I microwaved it. Not entirely sure of the effect this may or may not have had… but it may not have been too good.
My next mistake came at the sauté stage. My intent here was to put a nice char on the asparagus while retaining it's crispness. After giving the asparagus a nice blanket of seasonings with the addition of a little butter and oil, I proceeded to sauté it for way too long. It went from looking not too bad to pretty pathetic… of course, I didn't know this at the time or I wouldn't have done it. In hindsight, setting the burner at a higher temperature would have been the thing to do.
Hindsight is almost always 20/20 isn't it? I could have cut out the microwave thaw and dumped the frozen asparagus straight into the sauté pan. Or, I could have steamed it to completion in the unopened bag per the package's recommendation… but who ever follows that crap! Surely, I know more about cooking asparagus than whoever wrote those directions. Surely!
Or, I could have bought fresh asparagus. That may have gone a long way toward success.
A final mistake, maybe… when the time came 'round to cook the asparagus late in the afternoon, I'd already been sipping at the Christmas spiced rum. Now, I hate to blame the rum, as it was exceptionally delicious rum, however, I'm well aware that alcohol is often to blame for creating false bravado in a person…. as well as diminishing effective reasoning skills. Not sure if I'd consumed enough of the rum at that point to impair my judgment but who really knows.
Anyway, the end result was stringy, rubbery asparagus. It tasted ok due to the seasonings and butter yet the texture may have been a bit like trying to eat a shoelace. Not entirely sure as I've never tried to eat a shoelace but it does seem comparable. To his credit, my significant other ate it and said it was fine… even went so far as to call it "crisp." He's a great liar. Can a lie really be bad if it works out in my favor?
---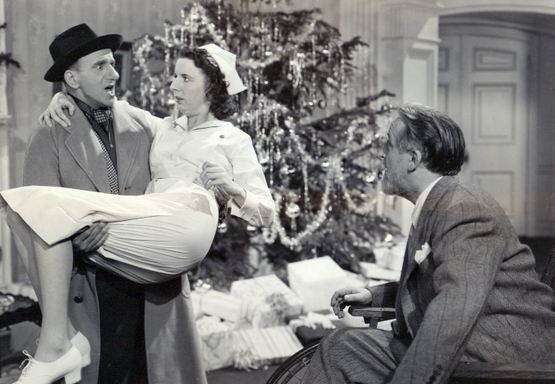 ---
Now, for the good…
Luckily, the rest of the meal ended up being fantastic! Mashed potatoes, stuffing, smoked Ham, gravy. It was delish! One little failure can be lived with.
The crescendo of the evening was watching "The Man Who Came to Dinner" starring Miss Bette Davis. I'd never seen the film before and all I can say is what a delight! The ending was just the best!
If I do decide to cook asparagus again I will do the sensible thing and procure some good advice first. Here are some great sources that I found.
Hope everyone managed to have a great day as well!
Visit AdorifyMe on Facebook